Meeting Venues
Whether you're hosting 10 or 1,000, our comprehensive guide to meeting venues will help you find the perfect place. Looking for something unique? How about hosting your event at one of our beautiful, local wineries? Have a big group? Check out a larger banquet hall or conference center. Using our Meeting Venue Guide, you'll be sure to find the right match for your event.
Do you host meetings?
Learn about how you can be featured in our guide>
Showing results for Chalfont, PA
Mobile Paint Parties held at YOUR location! Perfect for corporate events. No matter where you choose to hold your party . . . at the office, in the park, in the comfort of your own home, or at your favorite restaurant, our goal is for you and your guests to enjoy a relaxing few hours creating your own memorable masterpiece. Our patient instructors will guide the parties step by step, from start to
Show more...
finish. Is there a limit to the number of guests Uncorked Artist can accommodate? No!! We just need to know ahead of time to bring the correct amount of supplies (and staff). ...Show less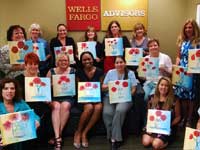 The first floor of McCoole's event space allows for two events to occur independently of each other or one larger event. The front room, known as the Cobblestone, holds approximately 40 guests while the back room, known as the Celestial, is perfect for 60 or more guests; used together they easily accommodate 100 people. In addition, each room has its own bar and fireplace. These rooms are primarily
Show more...
used for banquets, receptions, and events, and are welcoming spaces for funeral luncheons. Upstairs is the Black Box Theatre which seats 193. This extremely versatile space has been used for weddings, fashion shows and traditional theatre. It is also available for training seminars, corporate and other meetings, and can work in conjunction with buffet lunches or dinners downstairs. The Theatre may also be rented to theatre companies for stage productions, musical events, or any other type of art venue. ...Show less